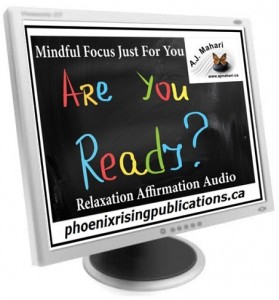 A Mindful Focus Just For You Relaxation Affirmation Audio is a positive affirming 60 minute audio to help you take a mini-vacation from worry, negative thoughts, and negative core beliefs about yourself that you may be or have being holding onto or have held onto since childhood.
Counselor, Life Coach, Author, Narrator, shares with you a journey of empowering relaxation, mindfulness, affirmation, and so much more that you will benefit from being empowered by in a way that will help you on your on-going journey of recovery, healing, and/or personal growth and personal development.
A heart-felt, uplifting video that will help you to relax, be mindful, re-charge yourself, take time to just be, learn how to empower the choice of where you put your focus and what you focus on.
If you need affirmation, inspiration, motivation, and to learn more about focus, mindfulness, and your value, belonging and worth, this relaxation audio in a meditative way, without requiring you to do any actual meditation, will be a valuable learning tool that can be a powerful beginning or continuation of incredible life change.
© A.J. Mahari, June 8, 2015 – All rights reserved.
Mindful Focus For Just You Relaxation Audio